Come to think of it, LinkedIn is all about business. With 575 million users, your brand can literally build a community of its own.
LinkedIn is a highly influential social network. On LinkedIn, B2C companies can thrive with their B2B counterparts.
This platform gives your brand the ability to tap into existing connections and grow your brand through word of mouth.
Also, LinkedIn is the top-rated social media site for lead generation. According to HubSpot, LinkedIn is 277% more effective than Facebook and Twitter.
Let's say you want to improve your brand's presence on LinkedIn.
Know that marketing your brand on LinkedIn will help you boost your brand's success immensely.
Before getting to the strategies, let's learn why B2C companies cannot ignore this opportunity on LinkedIn.
5 Reason Why LinkedIn Is Beneficial For B2C Companies
LinkedIn gives brands several useful targeting capabilities as compared to other channels.
The audience on LinkedIn is professional, educated, and have some serious decision-making power.
There are many opportunities for B2C marketing on LinkedIn because B2C content is still underrepresented.
Generally, people trust the content on LinkedIn more than the content they find on other channels.
The audience on LinkedIn is less sensitive to advertising as compared to other channels.
With the details out of the way, let's dive in and learn the top 8 results amplifying LinkedIn strategies for B2C.
1. Promote Your Content On LinkedIn
You can drive more traffic to your site by posting blogs, case studies, stats, sales, and more on LinkedIn.
Make sure you add videos and images because they will boost your engagement. So always make sure to add a visual component to your posts.
You can also syndicate your blog posts via a LinkedIn publisher to get an extra boost.
Blog-pros wrote a great article on syndicating your blog posts on LinkedIn – you can check it out here.
2. Interact with other people's content
Well, LinkedIn is a social media site after all so, don't forget to be social there.
We mean that you should share the posts related to your brand's niche, especially the posts of influencers and individuals with whom you would like to align your brand.
Interaction with content creates a bond – a relationship between the brand and users.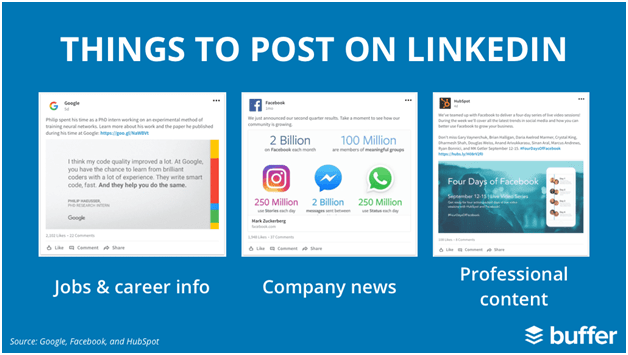 3. Use Your Content from Other Social Channels
Use your content that was successful on other social media platforms – use it on LinkedIn, as well.
You can try copy-pasting the content, but we recommend that you give your content a slightly different touch before posting it on LinkedIn.
Because LinkedIn is a professional platform – change the tone of the content by giving it a professional angle to better suit LinkedIn.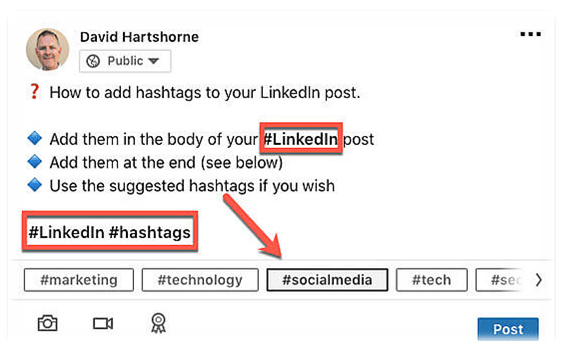 4. Leverage Hashtags
LinkedIn introduced hashtags in 2018. The technical term for the hashtag is "Octothorp."
Using hashtags in your content will make it more discoverable by the people, and this will also help you connect with people who are already interested in your brand.
So, choose relevant hashtags for your brand or industry. Tools like Hashtagify can help you find the trendiest hashtags. Also, LinkedIn offers automated suggestions for hashtags within the content window.
5. Create Discussion and Ask Questions (h2)
Curiosity is one of the best ways to learn more about your audience – and also, it can drive traffic to your page. So, be curious – try to question everything that comes into your mind related to your audience.
We recommend that your posts such questions that would make them think, open-ended question. Post them with the intent to spark a conversation among your followers.
6. Share Everything With Your Audience
One of the most crucial points to consider here is that most people use LinkedIn to connect with employers. They want to find jobs and discover new opportunities and companies.
As a B2C company on LinkedIn, be transparent – regularly share with your audience.
You can share the post information related to your brand and what is going on in your business.
You can also tell your audience about your company's values, product knowledge, job offers, and customer and company success stories.
This above strategy is what LinkedIn is all about, so by focusing on it – you will build more connections and boost your appeal to a broader audience.
7. Avoid Brand Jargon
When talking about your brand, don't slip into the marketing jargon – avoid this. This act will isolate your audience and limit the number of people you would reach.
The finest way to ensure that your content is friendly and engaging is to ask yourself one simple question: "Is this the way I would talk to a customer? Is this the way I would explain to a friend over coffee?"
Sticking to a friendly, casual, but professional conversation will ensure your brand's high engagement and make your brand's posts relatable.
8. Research your competitors
Researching your competitors should always be your priority. Keep an eye on them, see what they are up to on LinkedIn, and how they're attracting the audience?
By understanding their strategies and implementations, you would learn something great. You could even use this research to help your brand.
Let their efforts inspire and drive your own!
Conclusion:
LinkedIn may not be as entertaining or colorful as compared to other social media channels. Still, recent studies have shown that engagement on LinkedIn is rising.
You might not want to miss the potential, your brand can achieve on LinkedIn because once you get familiar with the strategies mentioned above. There is no telling what or how much your brand could accomplish. These strategies are all set to help you be well-placed and create a more compelling online presence.