Are you looking for the best eCommerce platforms to launch your own startups or an eCommerce store?
Choosing the best e-commerce platform that meets all requirements including yours, customers' and vendors isn't easy. The process of finding an e-Commerce platform is very complex. Multiple factors influence your decision.
The e-commerce industry is one of the most popular & fastest-growing sectors on the internet. According to Statista report, USA's online retail eCommerce sales are expected to reach more than 700 million dollars in 2023.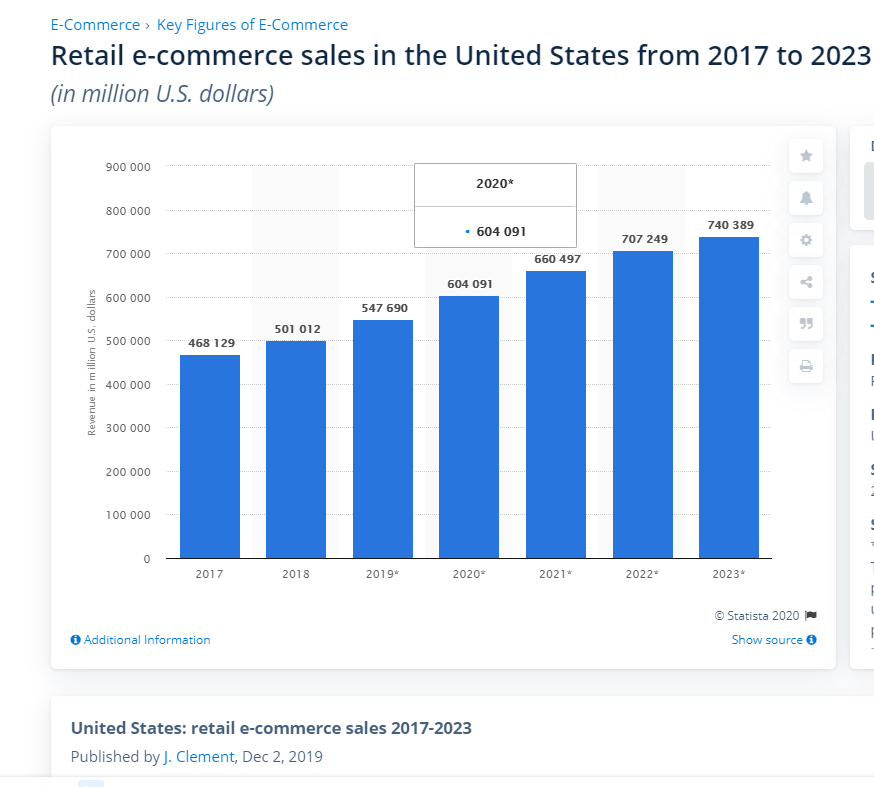 Image source: eMarketer.com
What are e-commerce platforms?
The new and coming way of managing your business is getting it up to date with technological developments and improve the working of things. In simple terms, e-commerce means any kind of transaction that takes place inline on a portal. It could be a purchase, sale or simple business to business trade transaction. Businesses are now growing in this field because of the prospects this industry holds. With flourishing marketplace and ease of transactions, it is a convenient form of exchange for both domestic customers and different businesses.
An e-commerce platform is a software for online businesses to grow revenue by helping with marketing, sales, and operations. The use of this software application is quite helpful in terms of efficiently utilizing technology and absorbing more customers for your online business. With so many options available, businesses can choose their e-commerce provider on the basis of the tools they provide. The correct choices of these tools as per your best benefit is necessary to monetize your investment in this regard.
What are the benefits of using an e-commerce platform?
Regardless of what your business is about, e-commerce platforms will only help you grow and be better. It is important to maintain and grow your customer base by providing them facilities that encourage future dealings while also maintaining current ones. Starting from scratch is not a good idea for growth for most businesses. Using these platforms is affordable, convenient, easy, and increases customer base substantially. E-commerce promises steady growth and follows an algorithm which is a much more reliable protocol than most other ways of promotion like plug-ins.
How to Find the Best Ecommerce Platform for You
It is very important to find a platform where you get the best benefits you can out of your investment. To decide what suits you better than the rest, you need to know factors to consider when choosing the best e-commerce platform for your business. These are-
Social Media Outreach: E-commerce allows you to indulge with customers and make conversation about your product that is helpful in effective promotion.

Number of Products: The variety and diversity in the products your company sells is unique so you need to establish yourselves on e-commerce platforms your own way.

Customer understanding and reliability: Human understanding makes it easier for stakeholders to check for information, get feedback, and work on possible improvements when you and the customer understand and rely on each other.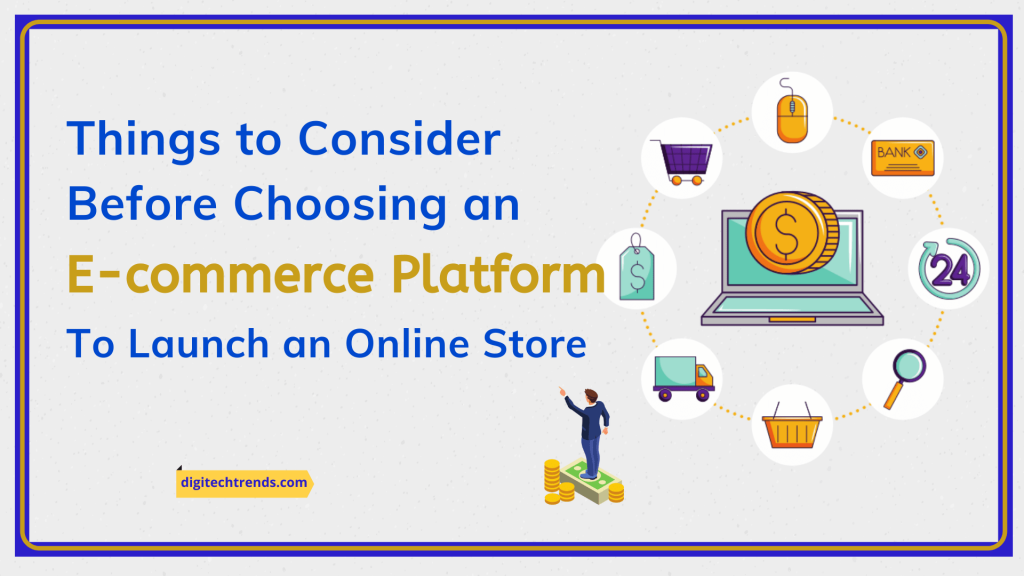 What are the best e-commerce platforms for businesses?
The best e-commerce platforms are those that are easy to use for both the buyers and the sellers, are inexpensive, provide customer support easily, and has an approach where one solution fits all your needs. It is important to have your business reach heights but the usage should also be comfortable to both you and your customers to ensure a smooth flow of trade and transactions.
Which e-commerce platform to use?
SaaS-based Solution: This is a Cloud-based hosting platform that removes the trouble of having to manage the software yourself and makes things simpler.

Ready-to-launch Solution: This solution is a combination of some set of tools that are fixed and some variables that can be changed even without which things can work out.

Custom Solution: Everything can be curated the way you want with the base benefits of an e-commerce platform for development and growth.
The 11 Best E-Commerce Platforms To Start An online E-commerce Store In 2022
Shopify
BigCommerce
Magento
3dcart
WooCommerce
Volusion
YoKart
CS-Cart
PrestaShop
X-Cart
Opencart
Wix
Squarespace
---
Shopify
Best eCommerce platform for small & medium-sized businesses.
Launched: 2006
Founders: Tobias Lütke, Daniel Weinand, Scott Lake
Headquarters: Ottawa, Ontario, Canada.
rice: Monthly price start from $29 to $299.
BigCommerce
Founded: 2009
Demo: Free 15-day trial
Headquarters: Austin, Texas, United States
Demo: Free 15-day trial
Price: Start from $29.95 to $295.95 per month
Also check out: effective eCommerce SEO strategies
Magento
Most popular open-source e-commerce platform
Founded: 2008
Demo: Free demo available on request
WooCommerce
Woocommerce is the most popular WordPress plug-in which allows merchants to turn their WordPress site into an online store. It helps to build a secure & powerful e-commerce store.
It has multiple features like its own secure payment processor and it supports most of the payment gateways.
"In short WooCommerce is a free tool to build an eCommerce store that's powered by most popular CMS WordPress."
Here are a few stats which show WooCommerce is the most popular eCommerce platform on the web:
As per Builtwith reports. Currently, 3,876,748 live websites using the WooCommerce plugin.
Source: https://trends.builtwith.com/shop/WooCommerce
Currently, 93.7% of all WordPress e-commerce websites use WooCommerce instead of another plugin.
Source: https://barn2.co.uk/woocommerce-stats/
3dcart
Robust e-commerce platform
Founded: 1997
Price: Start from $19 to $229 per month
Headquarter: Tamarac, Florida, United States
Volusion
Hosted e-commerce software platform
Founded: 1999
Headquarters: Austin, Texas, United States
Price: $29 to $299 (14-day free trial (No need to add credit card))
X-Cart
X-cart is an open-source e-commerce platform. With X Cart you can start both single & multi-vendor eCommerce stores. It can handle large product catalogs.
A non-techie person is easy to handle this e-commerce website builder. It gives full control from design to customer experience and hosting to marketing.
This software is the best suitable option for enterprises, corporations, B2B business owners, B2C companies, Small and medium businesses Multi-vendor marketplaces Retailers in any industry.