Having a blog is the best thing you can do to share your ideas or anything you write, whether it's a tutorial or a how-to-do blog. Any blog is a vital part of the internet. Almost every website contains one section of the blog. Let us look into a platform called blogger.com aka Blogspot to get ideas about how we can create blogs.
What is a Blog?
The blog is a regularly updated page which is run by any individual or a group of members. Blogs always show the latest post first. These give users benefits of what is new. Blogging is an excellent way of promoting yourself, or you work efficiently on the internet. That is why everyone is using blogs nowadays.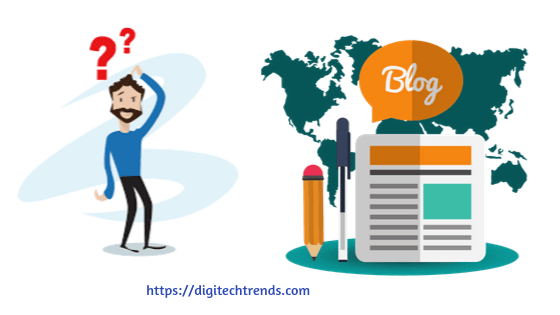 Blogger vs. Blogspot
Blogger.com is a free publishing platform which is owned by the best company in the world Google. Publishing platform means a free tool to publish anything on the web. On the other hand, the same company also owns Blogspot.com, but Blogspot is a free domain service provider, which provides sub-domains like example.blogspot.com.
Why use Blogger?
Blogger platform is the first choice of people who are seeking a free blogging platform. Especially newbie prefers Blogger platform instead of a self-hosted WordPress platform. As Blogger is a sub of google, it will always have the support of this company. Plus, it has a variety of different tools which we use to our advantage.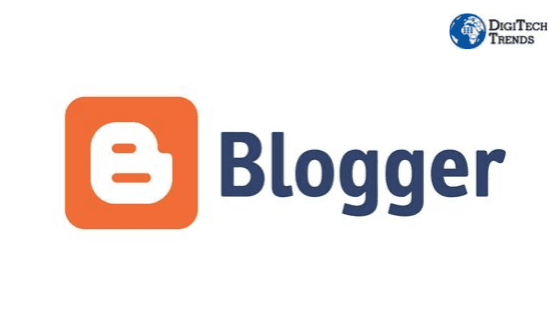 Pros and cons of using Blogger Platform
Pros –
Free – Blogspot is free, and we can start blogging quickly without paying any money.
Unlimited no of blogs – With Blogspot, we can create an unlimited number of blogs without any restrictions.
Security – Blogspot is secure as Google backs it.
Cons –
Limited Access – Your backend files will always be restricted.
No regular updates – Fewer updates than any other blogging platform out there.
Less revenuse – Less ads reveinue from adsense.
Benefits of Blogging:
It helps you build a network.
Blogging increases Search engine traffics for your website.
It publicizes your Brand or your work.
If you have any initiatives, Blogging is a way to go.
Improves your Search Engine Optimization.
Blogging Collects Feedbacks from users.
You can quickly sell a product.
You can express your ideas.
You can help others with your blog.
Step by Step Guide to Start a Free Blog on Blogger Platform
So now we will learn about how we can start a blog on Blogspot.com. Trust me, It's easy and fun. We don't have to do anything to follow these below-mentioned simple steps.
Step 1. Sign up for Blogger.com
The First thing that you need to do is go to blogger.com, log in or signup using our email address. Don't worry if you don't have an account on google, it's easy to create one for free. Once you are in, click on the new blog.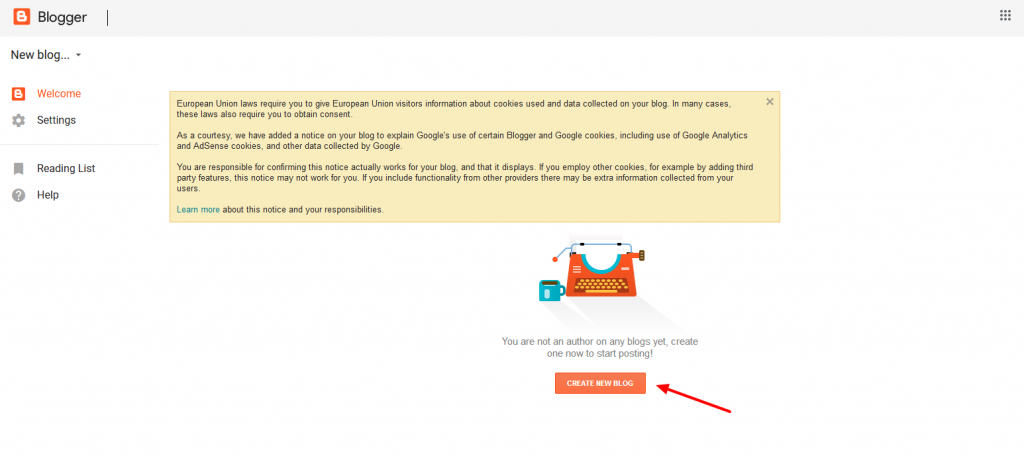 Step 2. Enter your blog name
Here, what you need to do is add the name of the blog and select your domain. You don't need to use your name for the blog; you have to write the name of your blog that you want.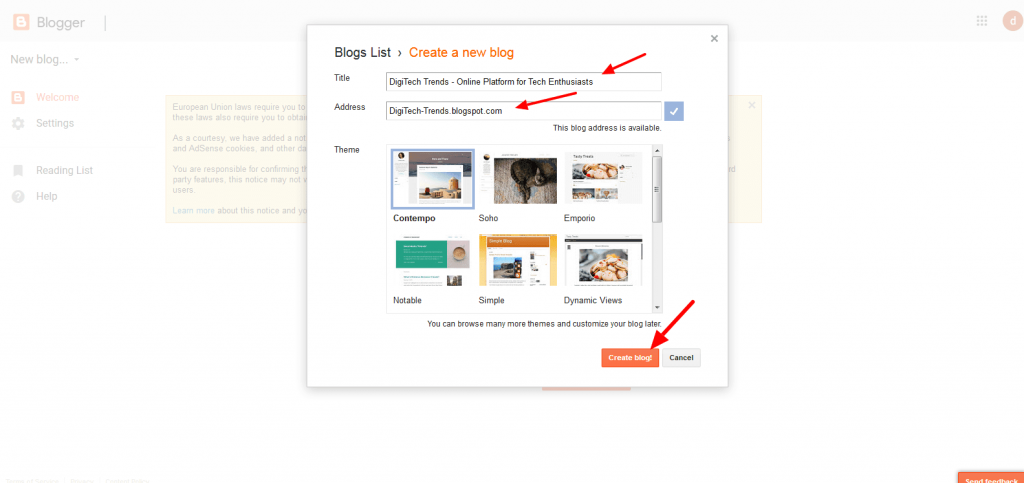 Congrats your free BlogSpot blog has been created. Now we'll walk through the next steps.
Step 3. Change your blog's theme
Now you can select a blog template, or you can say a theme for your blog.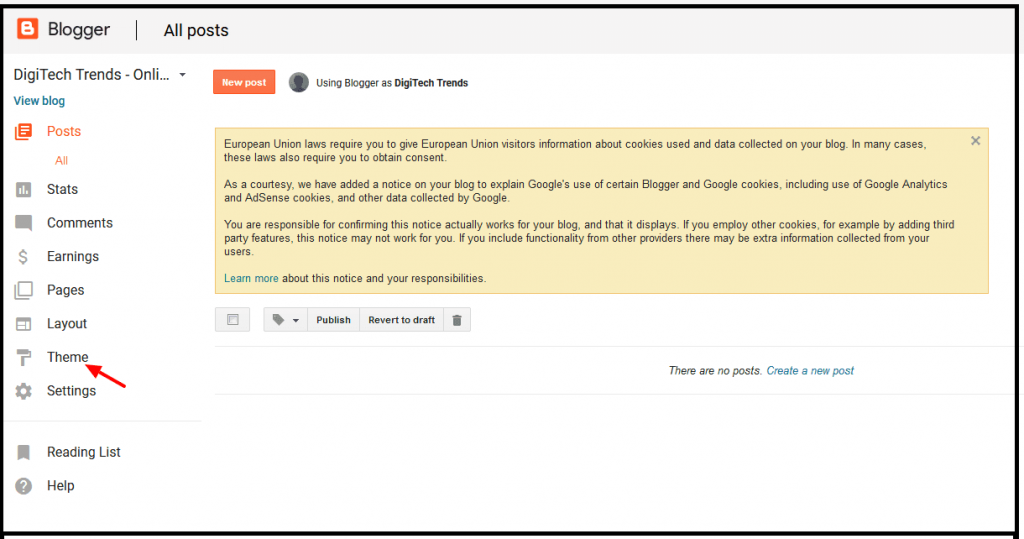 Step 4. Optimize your blog for SEO
For optimizing our blog for SEO, we need to use critical words throughout our blogs
Headings and subheadings
Introductory sentence
Concluding paragraph
Anchor text
Title tags and meta descriptions
Step 5. Create about us page
Now let us see how we can create the about us page.
First, go to Blogspot.com
Now go to Create a new page
Click the New Page. Enter a page title as About Us and other information and click on Save, Preview, or Publish.
We can even edit the page -Just under the page, you want to select, click Edit. Update your page and click Save, Preview, or Publish.
For deleting a page: Under the page, you want to remove, click Delete.
Step 6. Create a Privacy Policy Page
Go to pages in the left menu
Click on the New page
Give title as the privacy policy and click Publish
Now look left at the click on layouts
Now decide where you want this privacy policy page to be
Read this article to know complete detail info about how to create a privacy policy page for your blog.
Tips to write the SEO Friendly Blog Post
Give a catchy headline, and users can't resist it.
Research the topic that you want to write on.
Give sub-headlines and don't give too much information in your headlines. Let the audiences be curious.
Use quotes.
Write the best introduction.
Deliver articles that are easy to read.
Close your article with some motivational quotes.
Use images, videos, and infographic.
Conclusion:
Google's Blogger is the best platform you can start your blog. Blogspot provides all the necessary tools you need to stand out over the internet.
It's so easy to use everything that you have to just go, do as suggested in this article and be the best out there.