A business requires a good promotion and advertisements for its growth. A question always occurs in the mind of businessman that what is the difference in Digital marketing vs Traditional marketing?
The answer to this question will be very interesting. We will discuss both the marketing in detail further.
Marketing is one of the major parts of a business. Hence, it's very necessary to advertise your manufactured product, its qualities, and its benefits.
There are two kinds of marketing options we have.
One is the digital market and the other is the traditional market.
Both of these marketing firms have their benefits.
A businessman always used to get confused about which option is better between Digital marketing vs Traditional marketing. Some businessmen can't afford both forms of marketing.
In this situation, this big question for them arises that which option is best for them?
The answer is really interesting and surprising. We are going to answer this question by telling you the differences between traditional and digital marketing. You have to get educated enough to choose one of them.
Keep reading this article to know the definitions of the Marketing ideas, differences, benefits, and other useful information.
Digital Marketing Overview:
Digital marketing is done through television ads, building an official website or on social media. As technology continues growing digital marketing grows as well. It is similar to traditional form but using new digital technologies.
Props of Digital Marketing:
This form of marketing also has many advantages. The best thing about this form is that you can measure the results. Some of the other advantages of this form of marketing are described below.
Easy interaction
You can interact with your audience easily by using social media networks. You can not only interact you also encourage your followers to visit your official website to know more about your products.
Efficient cost
The costing of giving advertisements on online paid channels is still cheaper. You can post advertisements on social media like Facebook, Twitter, free of cost.
Easy to Track Results
You can check your campaigning results anytime with the help of Google analytics. You can also improve your advertisement quality after getting the results.
Competition
You can compete with your competitors with a solid marketing strategy. As you get the results you can compare with your competitors that their viewers and followers are more than yours or not. If you find that your followers are less than your competitors than you can improve your marketing.
Exact results
You don't have to wait for a particular day to get your marketing results. You can find results anytime by using insight tools. You can get the number of viewers and your followers and also how many people reached to your advertisements.
Cons of Digital Marketing:
The digital form is unable to reach those people who didn't use the latest technologies or digital services. This is the only disadvantage of this kind of marketing.
Traditional marketing Overview:
In simple words, a printed advertisement is called as traditional marketing. A businessman can advertise their manufactured products and their company by giving print ads in newspapers or magazines.
Props:
Traditional Marketing is the best way to reach your local audience. It has many other benefits and we are going to discuss some of them.
Easy to understand:
Printed advertisements are easy to understand. Most of the people find it more understandable. Because of this kind of strategic, idea attracts customers easily.
Hard copy:
Some people use to keep the cutting of their liked advertisements to read over and over again. Hard copy allows them to do it.
Can cost less but is time-consuming.
This form of marketing costs less and is easily affordable than other forms of marketing but is a little time-consuming.
Local language:
You can advertise your products in local language newspapers using the local language. This will help to reach those audiences who are not comfortable with other languages.
Non-users of the digital form:
Some people didn't use to watch television or they are not being able to watch. They used to read newspapers or magazines for news updates and current affairs. The newspaper cost less than any digital form. Printed advertisements help to reach this kind of audience.
Cons:
Printed advertisements can't make a strong interaction between you and your customers. You can't describe all the specifications and qualities of your products in limited space. If you want to do this it costs high. Therefore, traditional marketing is little conserved in terms of transferring information.
Newspapers and magazines used to charge as per words. Also, printed advertisements can't measure ROI (Return on marketing investment) that how many people reached their advertisements.
Which form is best for marketing?
In our view, both forms have their advantages. That's why we will recommend both of them. But nowadays people are more passionate about social media and online research.
That's why nowadays digital form is becoming more popular and result oriented.
We can opt for both the forms as per our comfort. As traditional marketing is also very useful and has the efficiency to get results.
Why Digital Marketing is preferable over Traditional Marketing?
As traditional marketing is becoming less know nowadays because of enhancement in technologies. The preference for digital marketing is eventually increasing.
People find digital marketing an easier way to display their products.
There are even many companies helping to market the product digitally.
Hence, from Digital marketing vs Traditional marketing recommended option is Digital Marketing.
Where to invest in digital marketing?
This is one of the major questions in front of a businessman where they could invest in getting better results. One can use both methods of digital and traditional marketing for promoting their products and services.
Here are some options where you can invest for marketing purpose to get amazing results.
1. Print advertisements:
Print advertisements are a form of traditional marketing.
It has the efficiency to attract customers who regularly use to read newspapers and magazines.
2. Digital advertising:
You can advertise your products and services through digital advertisements on television, social media, and YouTube.
This is the best option to attract the audience who are fond of using digital resources.
3. Built a website:
Building an official website to promote your products and services is another best option for investing in marketing.
Official websites have the efficiency to put an attractive impression on the audience.
Most of the people used to research any query of a particular product on their official websites.
Two Challenges for the Marketers:
1. The first most challenge is to track the KPI that is Key performance indicators. The KPI's include ROI for tracking return measures.
2. The changing buying behavior of the customer. Along with the continuous change in networks of social media.
Why there is a higher engagement of customers in Digital marketing?
As we said that the through traditional marketing we are not able to do direct interaction with the audience. But digital marketing allows us to do it.
By commenting on social media advertisements and by giving reviews on your official websites about your products and services audience instantly connected with you.
You can build better relations with your audience by interacting with them through digital channels.
These digital channels allow you to engage with your audience.
You can also solve their issues and problems after getting reviews instantly.
Therefore, from Digital marketing vs Traditional marketing. There is more customer engagement in Digital Marketing.
What does the market say about digital marketing?
Nowadays people are getting more passionate about digital marketing. They used to research the product reviews before purchasing it.
That's why it's very necessary to keep an eye on markets. You have to get the updates of your products and services from market reviews.
Here we are going to tell you why you need to know what the market says about your products and services.
Also, you will get help to understand the growth and prominence of digital marketing.
Market Review:
People used to research websites or market before investing in any products and services.
Nowadays a lot of people are using Facebook regularly. They can get all the updated reviews of a particular product.
All B2B marketers used to do research and stay active on LinkedIn for marketers.
More than 70% of people in the whole world are using mobile for the growth of digitalization.
All the B2C businesses used to report social media websites for the most effective content marketing tactics.
Some Interesting Facts about Digital Marketing:
People nowadays are fond of spending a lot of time on the internet. So, digital marketing is a good source for reaching them.
Email users are increasing at a vast rate. Hence, sending mails of marketing is becoming a good option.
Blogs are influencing people to purchase the product. The influence rate was increased by 63% approx than last year.
Even the videos are influencing people by an increase in 83% in the buying rate.
Only 8 seconds are enough to attract a customer. The image needs to be relevant to the content. This will increase views chances by 94%.
Digital Marketing vs. Traditional Marketing Infographic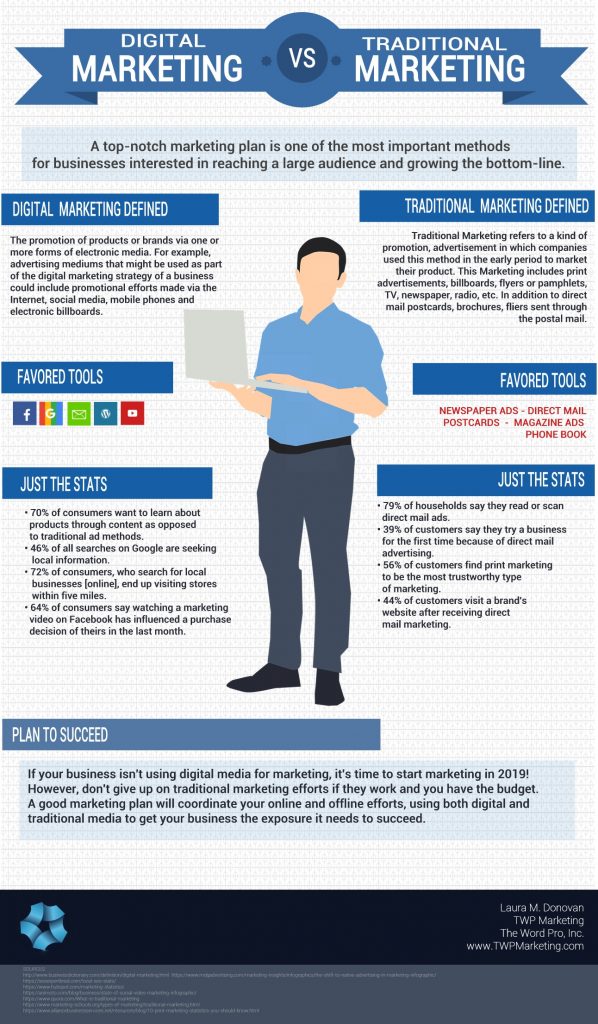 Infographic source: https://www.business2community.com/infographics/digital-marketing-vs-traditional-marketing-infographic-02252932
---
FAQ Related To Digital Marketing vs Traditional Marketing
Can Digital Marketing Replace traditional marketing?
As per our experience Traditional marketing still working for businesses. If you think digital marketing will completely replace traditional marketing, then I would like to say no.
Both types of marketing help businesses to achieve their goals.
Traditional marketing has its own roots & the basic techniques of digital marketing are the same as traditional marketing.
Digital Marketing vs Traditional Marketing what should you use?
Both marketing have their own pros & cons. Which one is best for your business it depends on your requirements that you want. So you need to decide your target audience first then you can choose marketing channels.
As an example: If your target audience is in rural areas, adults then you need to use traditional marketing. If your budget is limited, you want quick results, your audience is in urban areas then Digital marketing is the best choice for you. On the other hand, if you think for future purpose then both marketing are good for your business but you need to decide where you need to invest more money as compared to both. Because nowadays, it is difficult to survive if you have not choose both for your business.
Do you want to grow your business through digital marketing?
If you want to grow your business through digital marketing then you need to find the ways that can help in the growth of your business.

A few digital marketing channels are:
SEO
Social media
Email marketing
Blog
Business networking sites
Display Advertising
Affiliate Marketing
Many more.
Hence, from Digital marketing vs Traditional marketing, the most preferred one is digital marketing.