A blogging site is exactly like a treasure to all the exceptional writers, influencers and promoters. These sites provide a voice to their astounding imaginations and thoughts. Every individual can have their own site and express their thoughts in front of the entire world. The technological advancements have made it convenient to create a blogging site and connect to the world instantly.
Blogger and WordPress are the two most influential and popular platforms for creating blog sites on the internet. Both platforms have enabled millions of users to show their presence on the internet. And that is the reason every individual before starting with blogging faces the dilemma to choose which platform for creating their site.
In this article, you will get all the important points of consideration that will help you choose a better platform for you. Firstly let's begin by checking out their overview. 
A Detail Overview About Blogger & WordPress Platform
WordPress vs Blogger "The Overview"
Blogger: Blogger is the origin of the trend of publishing content over the internet. The Blogger began the revolution of actually implementing "the right to express through the internet". The company was started by Evans Williams in 1990s.
Blogger is usually referred to as an internet standby. The level of standby sometimes degrades the usability of Blogger keeping it away from bigger projects. In 2003, google purchased Blogger and made it more accessible, convenient and inexpensive. Blogger has created blogging an evergreen business that is old yet attractive. To consider its applicability for a website, Blogger has all the necessary features to create and establish a website. The working of Blogger is somewhat different from what you do while purchasing, installing and managing your website parts individually. That's where it makes a difference as you need to choose between control and convenience. Mostly Blogger is a platform that majorly looks on blogging as the most important part rather than content management. 
WordPress: Started in 2003, WordPress is owned by its 2 founders naming Mike Mullenweg and Mike Little. They established the company named WordPress.org which handles all the operations of WordPress including its approach to the entire world. The moto to develop a free website creating platform was to enable people to raise their voice and present their ideas in front of the world. It has made it easy for a layman to build his website and mark his presence over the internet through amazing blogs. Looking into the recent data's, show that 1/3rd of the websites available over the internet are developed through WordPress. More than just a website builder, WordPress is also an open-source platform that helps in content management through its CMS which is licensed under GPLv2.
A CMS or the content management system is a system that allows you to manage the website easily by focusing on different aspects of a website. A content management system is a convenient tool that could be used by a non-tech savvy person easily. Making the content management system licensed allows the users to utilize or change the WordPress software anytime without paying any extra cost.
WordPress vs Blogger "Which is Better"
In comparison to Blogger, WordPress provides an entire package of website manager through its content management system. This feature of WordPress allows its users to create any sort of website through it and manage it.
However, here are some of the points that will help you understand the better one as per your requirement:
1. Tech Skills: WordPress makes it quick and easy to create a blog. Rather than getting through with the coding knowledge, you are just required to have basic skills for installing WordPress and set-it-up on your desktop or mobile phone.
WordPress will direct you to build a website of your choice through amazing options of templates and themes. On the other hand, with Blogger you need to go on its website and are required to sign-up through your google account.
On the Blogger website, you would find an option saying "Create a Blog". You need to begin your process through it. The other steps would be choosing a blog title and a theme and address for your blog.
2. Own it or Use it: An important point to be considered before starting up with your blog is that who is going to control your blog and its content. The site builds on the Blogger platform doesn't allow you to host it, you need to leave that part with google. You have to adhere to the policies, terms and conditions of Google for having a blog site through Blogger. In case you disable your google account, well, then you are actually deleting your blogging site as well.
On the contrary, WordPress being an open-source platform allows you to use it your way. However, the web host of your site would have some terms and conditions of its own that are required to be followed. But it is not necessary as you have the option of switching to another website host company, in case you don't follow or agree to their rules. In terms of the back-up, both the platforms provide you such options, although you must be regular with publishing your content.
Now if seen in future terms, then possibly WordPress has an upper hand as its open source and can never be shut. The reliability of businesses over WordPress would not let it go from the market so easily. Blogger, as owned by Google, can be shut or get disabled if google thinks to do so.
3. Expense: Now setting up a blogging site could be a bet, you don't know whether it's going to be a success or a failed experiment. You need to be careful while deciding on the expenditure part.
Both Blogger and WordPress comes for free, at least their initial services are free. If considering Blogger, then you have the option to register your blog with a personal domain name, that would cost you around 10$, however, it entirely depends upon your choice if you want to have it or not. The Blogger gives you a default URL, that is actually enough to mark your presence online. On the contrary, the WordPress software will build a free website for you, though you have to bear little expenses so that you can manage your WordPress site effectively.
For a WordPress website, you would require a domain name. Any domain ending with .com would cost you 10$ a year. Your next step would be selecting a host for your site to make it available online. Depending upon your blog, the hosting of a site begins with 25$ a month. WordPress offers a commercial theme and plug-in which varies in prices, though you can go for the ones that are free of cost.
4. Appearance & Themes: Display, appearance and looks of a site are the most important aspects of a blog site. The Blogger is not a platform that will allow you to go through multiple templates and themes. The themes provided on Blogger are used a lot of times and do not have an exciting factor. However, you can change the layouts and colours of these templates, but cannot create one of your own.
On the other hand, WordPress consists of thousands of choices in templates that are professional, classic and premium. The themes of WordPress are designed to fit in for every kind of website. Here you can look for every sort of website that suits your website purpose. Even on WordPress, it is quite convenient to modify a particular template as per your need. On WordPress, there are more than 7000 themes and you can look for a theme by typing the category of theme you want in the search panel. Even apart from the themes available by WordPress, you can checkout for theme providers like Themify, Astra Themes and Elegant themes. You can create a theme on your own by exempting the coding requirement on WordPress.
5. Content Portability: There are possibilities when you are on a particular platform, but do not find it useful enough and think of switching from it. No No No, you don't need to shutdown your site, you can just transfer your site to another platform of your choice. However during the migration, you may lose some of the formatting and display settings of your site, but that can be revived later. You may find it difficult to move a blogging site from blogger platform as it is a complex task, and may involve loss of followers, subscribers and SEO rankings during the migration. Even your data will not get deleted from google after transferring it through Blogger. On the contrary, WordPress makes it easier to transfer the site anywhere. WordPress allows you to change the host of your site, change the domain name of your site and also you can change the CMS of your site.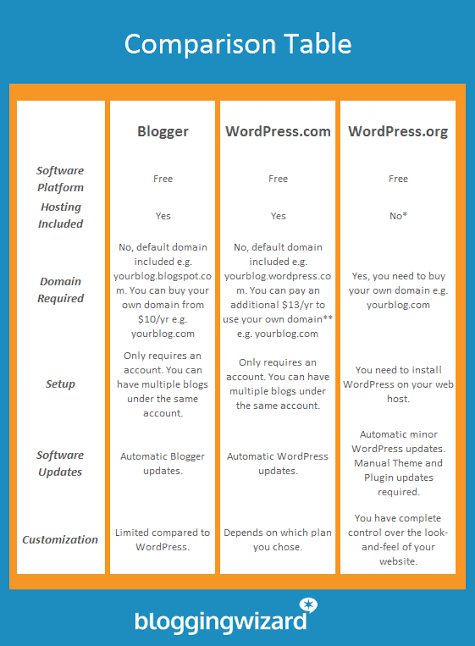 Image source: bloggingwizard.com
WordPress vs Blogger "For Making Money"
While creating a blogging site for your passion, you would want to spread it among the diverse population of the internet world. But is that so simple? May be, not. You have to be careful and look for some great tricks that build traffic to your site.
SEO being one of the most significant applications to raise the traffic of your site, will help you gain popularity and build massive earnings through it. You have to choose a platform that is SEO friendly. In terms of search engine optimization, WordPress is way ahead of Blogger. The changes in SEO has brought many plug-ins in WordPress that support rankings of your website. While in Blogger, the only way to monetize a blog is by putting ads on it through Goggle Adsense. By this, you will earn when the user will click on an ad present on your blog. However, the earnings through ads are available with WordPress as well.
Blogger can monetize your blog only with the help of another venture of google, otherwise, it has nothing to make you earn, at least not for a steady income. On comparison to Blogger, WordPress has multiple plug-ins and options to make great earnings.
Here are some of the best advantages that will help you earn through WordPress over Blogger.
The content management system of WordPress is unmatched flexible. It can be used for several purposes like developing and administering a personal blog site, e-commerce site, company's blog, portfolio site etc.
WordPress codes allow you to exploit many features that will help you increase your rankings in no time.
With WordPress, you get to enjoy many extensions (plug-ins) and themes without investing in it.
WordPress is not at all difficult to manage, it keeps your website updated. Even you can leave it on WordPress to look after your content and its regularity.
WordPress gives you an option to create a membership service on your blog that will enable you to build a group of people to earn money and grow your business. (if you have any)
As a conjecture, WordPress is anyway better for having a professional blogging site, but if you are a beginner and just want to create a blog for having fun and sharing your thoughts with a limited group at a lower cost, then you must go for blogger.
Similar Article:
https://themeisle.com/blog/blogger-vs-wordpress
https://www.shoutmeloud.com/wordpress-or-blogger-seo.html